faced with many problems that other passengers cause, or you could be the one causing these problems…
It is annoying enough to be stuck in a confined space for a period of time that feels endless, but somehow, we find ourselves dealing with more annoying things that turn that flying experience into a nightmare.
However, it is important to understand that during those few hours, we are all sharing a space that we can't escape and where our stress level is being pushed to the limits, which is why it is necessary to be kind to others, offer our help whenever we can, and try our best to not be rude in order to have a pleasant flight.
After all, we know that those airline tickets weren't cheap to spend the majority of your time just feeling annoyed by someone's horrible feet odor.
1. PLACING YOUR FEET ON THE ARMRESTS, SEATS OR WALLS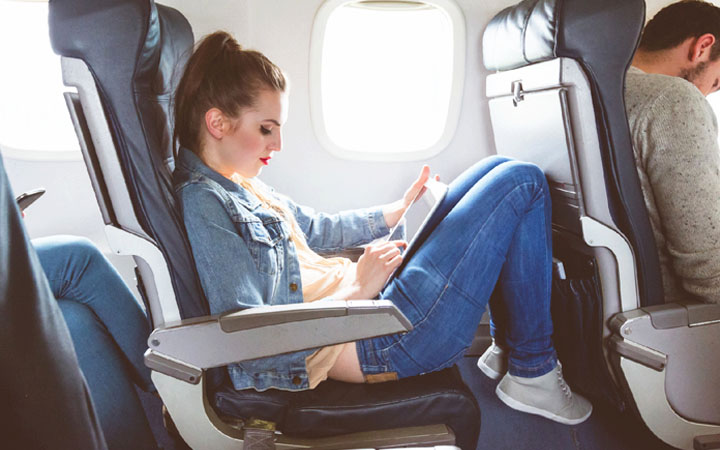 Somehow, many people on the plane believe that it is fine to put their feet wherever they want. They believe that they don't smell "that" bad so they are allowed to put them in someone else's space.
The truth is, even if your feet smell like a garden of roses blossoming on a beautiful spring day, it is still rude to put your feet close to anyone's face or body.
The passenger close to you might be a little too nice to not show their annoyance, but you need to understand that you are not only invading their space but also preventing them from moving freely. If you want to stretch your legs, wait till the seatbelt sign is off, and then go for a walk down the aisle.
2. TURNING THE AIR-CONDITIONING OFF OVER YOUR SEAT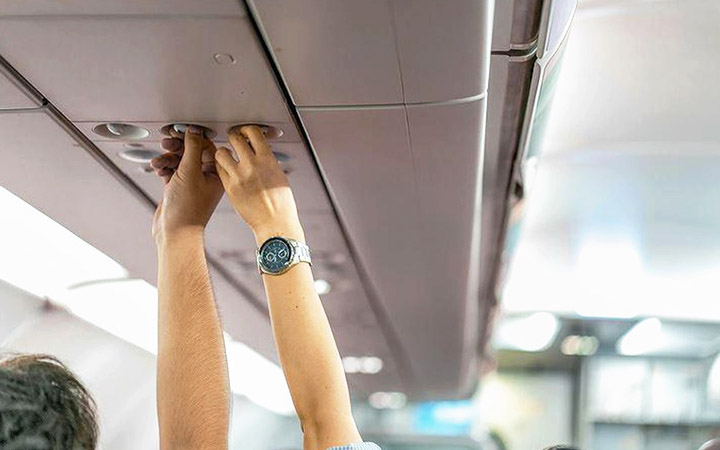 It is a known fact that airplanes tend to keep the air conditioning system low and it is for a good reason: The cold temperatures would keep the bacteria from spreading in the airplane, preventing people from getting a cold or the flu.
However, when you decide to turn the air conditioner above your seat, then you are posing a danger to yourself and the people around you, exposing the airborne viruses that could lead them into being sick, and therefore, a not well-spent vacation (or business trip!).
3. SLEEPING BEFORE TAKE-OFF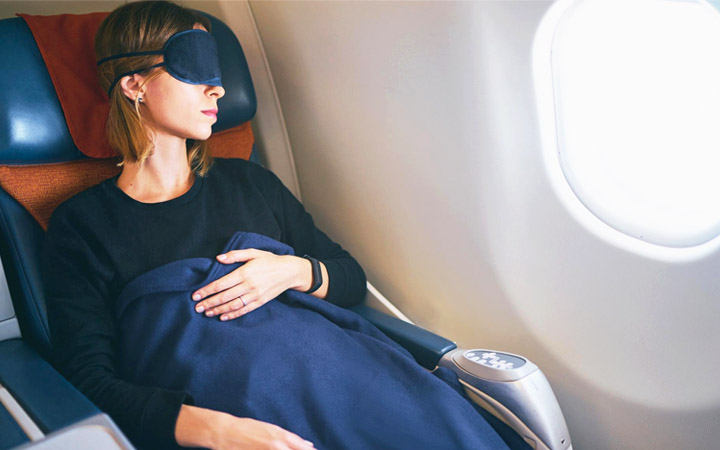 Yes, we understand that you are free to sleep whenever you want, but when you do it before the takeoff, then you might cause a few issues to others and the flight attendants, too.
The time before take-off is when everyone is being seated, arranging their seats, and guaranteeing their safety. So, there may come a few moments when you will need to help, get up, or even change seats with others. Trust us, no one wants to be put in a situation of having to wake you up!
4. RINGING THE FLIGHT ATTENDANT BUTTON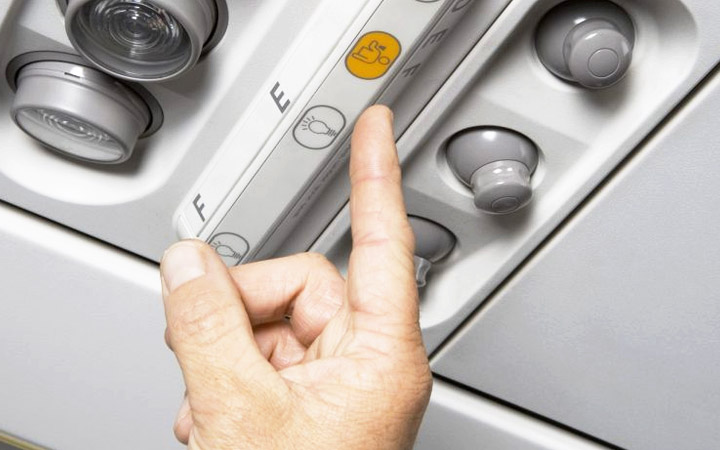 This one goes for first-time travelers who get a little too excited to be on that plane, so they keep on calling the flight attendants in order to cater all of their flight needs, but what they don't know is that button is there for emergency cases only.
If you are not feeling good, the passenger sitting next to you falls ill, or the overhead bin has opened during lading or take-off when you are unable to leave your seat, then using that button is acceptable. But to keep pressing it only because the Wi-Fi you need for playing games is not working is just impolite.
5. TAKING OFF YOUR SHOES
You might have already established the fact that you shouldn't put your feet in other people's space, but you would still consider taking your shoes off, and thinking that it is fine, oh well…
The first reason why it is impolite to take your shoes off during the flight is the fact you would be disrespecting your fellow passengers by the smell of your socks and shoes.
Also, you need to understand that the air pressure can be low in the plane, which will narrow the blood flow to your feet, especially in elderly people.
The best solution is to get yourself loosely tied suede shoes that will keep your feet comfortable and the passengers undisturbed.
6. USING THE BATHROOM BEFORE TAKEOFF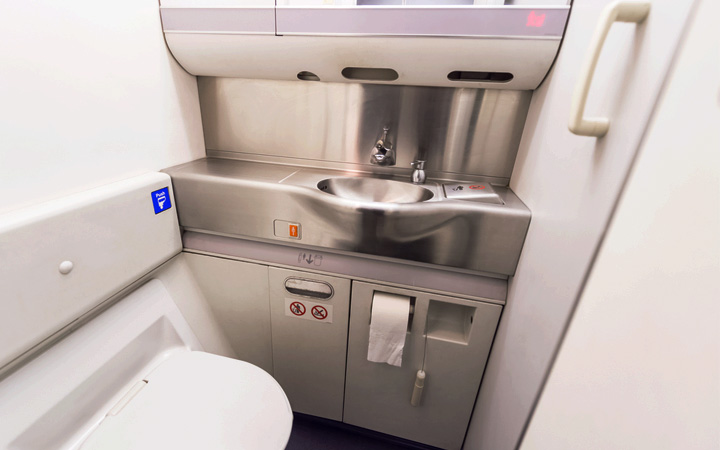 I know, when nature calls, you just can't ignore it. Thankfully, everyone is provided by clean and appropriate bathrooms in the airport that can be used anytime before boarding, so if you know that nature calls you frequently, then make sure to use it before you board the plane.
If you are already on the plane and you need to use it, then wait till the plane takes off, at least. There are no specific rules to prevent you from using the toilet before takeoff, but it is dangerous for you.
In fact, the pilot will not start the plane if there is anyone in the bathroom. So, why would you delay the flight and many people's time?
7. NOT WEARING A SEATBELT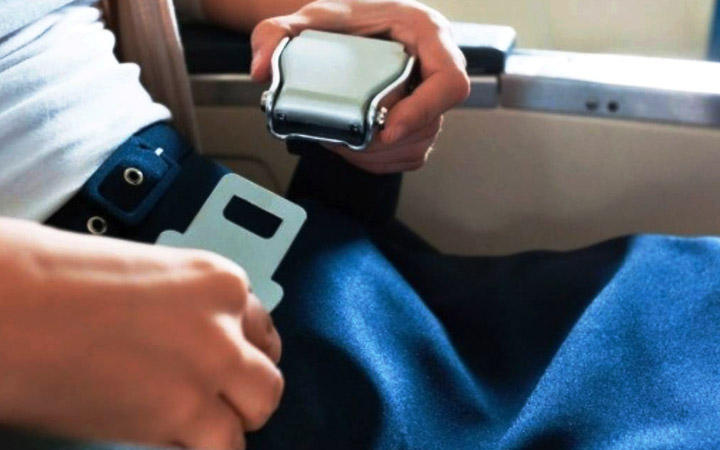 Even a newborn baby understands the rules: The seatbelts must be on when the sign is on, no matter how calm and confident you feel during turbulence. You could decide that it is not necessary, but any kind of movement will lead you to move around your seat, be unstable, and possibly hurt yourself and others.
Air Canada had to do an emergency landing only a few months ago in Calgary due to emergency turbulence. 21 people were sent to the hospital and they admitted their seatbelts were off; they even ended up hurting the people next to them who were actually wearing seatbelts.
8. NOT TAKING CARE OF YOUR HYGIENE
Honestly, this one goes for your everyday life and not only when you are about to board. No one wants to sit for hours next to someone who doesn't have a pleasant odor or let's say, someone who doesn't care about their hygiene in general. Can you imagine yourself sitting next to a stinky someone for hours in a stressful environment?
If your answer is no, then be the change you want to see in others. Always take a shower before you leave for the airport, wear your deodorant, and always keep a gum with you.
9. DON'T SIT IN THE MIDDLE OR WINDOW SEAT IF YOU VISIT THE BATHROOM FREQUENTLY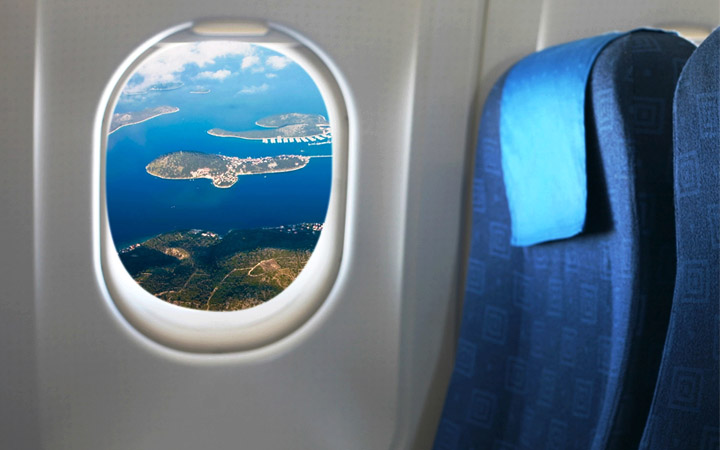 The reason is pretty obvious, you truly don't want to be constantly annoying and waking up the passengers next to you. You, personally, would feel annoyed when you keep annoying them!
However, there is a recent survey that has shown the majority of people would rather go to the dentist (it is scary!) than sit in the middle seat. It is hard to make yourself comfortable between two people, and it became worse when the person on the window seat has a small bladder.
If you are one of those people, then don't be shy to ask the passenger to swap seats, it is a much better option and most considerate way to solve this issue.
10. DISTURBING OTHER PASSENGERS
Well, this is kind of obvious but it still deserves to be mentioned because there are still people who commit a few behaviors that are truly confusing, especially when they come from an adult.
There are many things that can disturb others, and there is a chance we are not doing them on purpose. Since no one wants to be confronted by a stranger and be asked to stop what they are doing, then here are a few untold rules to follow:
• Don't clip your nails, pluck your eyebrows or clean your ears during a flight. These things have their time and place, and the flight you are sharing with hundreds is not one.
• Don't talk to your friend who is sitting somewhere far as you are standing up in the aisle; it is just awkward and annoying for others.
• When you are having a conversation with someone next to you, try to talk quietly because many people like to spend that time sleeping or working.
• If you are playing games on your smartphone, then use your headphones or just turn the volume down.